Dungeness
With its strange and eerie remoteness,
An atmosphere reigns of unforeseen loneliness,
Overshadowing this vast, wild wilderness.
It is called Dungeness.
Of course this impression may only be,
Due to that threatening malevolency,
All- powerful and potent reminder
Of the Age of Technology -
The glowering power station, set between the shingle
And the mists of the shimmering sea.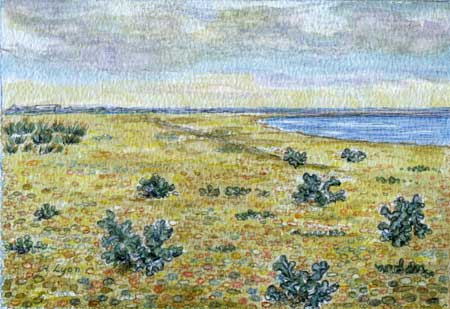 The wires above us are alive with humming,
A high-pitched whine, monotonous, mind-dulling,
Beneath a heavenly sky of luminous blue intensity.
We feel no welcome touch of cooling breeze
To direct our footsteps towards the sea.
We feel instead tired out. Dusty, thirsty,
As towards the sea we trudge, so endlessly,
Over the scorching, crunching shingle,
While the mist fades out the whispering sea.

We pass by the once-discarded carriages.
We see the brightly painted summer cottages,
Set out disarmingly. Haphazardly.
Shingle gardens sprouting cabbage and the spiky holly,
Owned by the fishermen, who sit along the shore -
On the shelving banks of shingle, waiting there so patiently,
For the fish they hope for, but will never catch, will never see.
For there are few fish left in the polluted and unclean sea.
But at last our search is ended, and finally -
We see the pale horizon, just a thin blue line, no more.
And the sun rains diamonds from the luminous sky,
Through diminishing mists and onto the shimmering sea.
© Helen Lyon 2001
All Rights Reserved