Home

The Little Church at Ebony

Daffodils at Sissinghurst

Fairfield Church

The River Rother

Romney Marsh

Smugglers of the Marsh

Dungeness

Winchelsea Beach

The Daffodil Church
The River Rother
In the green and gold of summer,
The Rother flows so slowly.
Its pace is sluggish and lazy,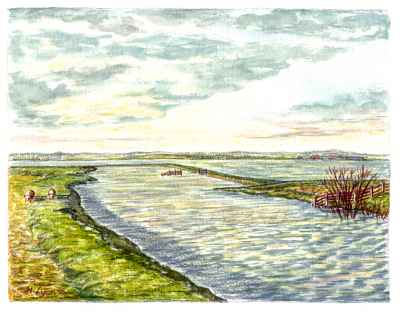 On a hot, dry, dusty and hazy
August afternoon.
All is languid, silent and still,
And the water appears not to move at all.
I have no energy, save to stand and stare
Through the water's constant glare,
At a water-rat. Small but fat.
Fur all sleek and water-shiny,
Diving up from the river, for air.
With whiskers a-quivering,
He scurries off, slithering
Back to the bank, to disappear.
In the blue and grey of winter,
In the depths of ice and snow,
It's quite another story.
The river then will flow
In exuberance, in all its glory.
Foaming and frothing,
Whirling and swirling,
It bursts its banks in a frenzied fury.
The river-waves can wait no longer.
Ready to surge, for the water is stronger
By far - than any defences made by man.
The river spreads itself in glee, defiantly,
As far as the naked eye can see.
And a different landscape emerges -
A beautiful, sparkling inland sea.